So I recently finished reading an older book about pilgrimages in Great Britain: The Pilgrims' Way: Shrines and Saints in Britain and Ireland by John Eric Adair.  It's a fairly comprehensive guide to the major shrines (churches, chapels, wells, and ruins) of Great Britain, with some of the lore about them and their saints, and lots of photos of the places.
My favorite anecdote has to be St. Edmund of East Anglia. After King Edward was martyred by vikings in a St. Sebastian-style beating followed by archery practice, they tossed his severed head into the woods to deny him a decent burial. However, some loyal Saxons went searching for it and heard it calling out "here, here" so they could find it. It was being guarded against woodland scavengers by a wolf, who tamely followed them back to the church where the head was buried with the rest of his remains.  Wolves would later adorn decorations in his shrine, as a sort of saintly mascot.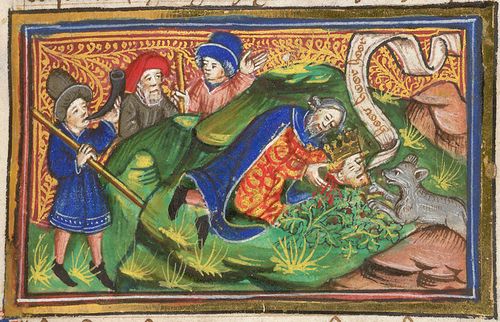 After he was canonized and the the body was "translated" to a proper shrine in 903 AD (Wikipedia dates his translation to 1095, but then again the article jumps around regarding dates), the head was found to be miraculously re-attached! King Sweyn, who doubted the sainthood of Edmund, was killed by a blast from the relics, and later a Danish noble named Osgoth was driven insane for expressing doubts about the story, so Edmund had his revenge from beyond the grave. The shrine would be visited sailors hoping for good winds and by ladies hoping for fertility, who would perform the "Oblation of the White Bull" to ensure pregnancy.  The oblation is not quite as kinky as it sounds; it mostly involves petting a white bull and then taking an offering to the shrine.  It's probably just another pagan survival.