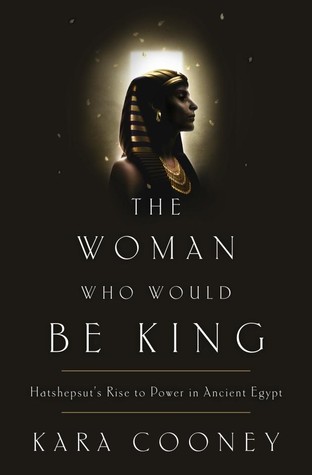 Hatshepsut was a pharaoh in Ancient Egypt. The most interesting thing about this pharaoh is that he was a woman, and despite her nephew and successor's efforts to eradicate inscriptions and monuments relating to her rule, we know enough about her for her to be the subject of this book. Actually this book is largely composed of speculation and inference, as all of our understandings of the pharaohs must be, since the Egyptians mainly recorded accomplishments and praise, rather than any minutia about everyday life, motivation, or really the human side of the these god-kings.
The author, an archaeologist and Egyptologist, is clearly very knowledgeable about Egyptian daily life and religion, and her speculation is careful and convincing, perhaps most of all because she admits to many lacunae and areas of uncertainty. This book is a fascinating account of daily life in the royal household of ancient Egypt, and if anything goes into more detail than the casual reader can possibly digest. I eventually found myself skimming the details about ritual practice and some of the architectural projects. The author goes into a lot of disturbing detail about royal incest and the extremely sexual nature of some of the temple duties of priestesses and queens, but the intent is not to shock or titillate so much as provide a more complete picture of Hatshepsut's world. (Still, it does make me wonder if the people who keep trying to appropriate Egypt's legacy — Freemasons, Afrocentrists, etc. — understand what they are actually in for!) Cooney's asides about Victorian museum curators hiding away certain ithyphallic reliefs and statues of Amon and Min due to their rudeness injected some humor. There is also a bit of gruesome detail about the prevalence of disease and parasites in ancient times, and a matter-of-fact but gory description of the embalming process, neither of which you'll want to read while eating.
I read an uncorrected proof (through the Goodreads "first reads" giveaway), which had a few plans but lacked any illustrations. I assume the finished book must have a number of plates or details from the statues, inscriptions, and monuments to which the author constantly refers.
The author makes some great observations about the tendency for people — historians and regular folk alike — to ascribe bad motives when a woman expresses the desire to rule, but unfortunately is unable to really connect these observations to Hatshepsut specifically. From what we can tell, her rule was extremely effective, bringing wealth and prestige back to a tottering empire, and innovative in terms of reorganizing the political hierarchy to ensure loyalty to the pharaoh. She also has the distinction of seizing a throne without spilling a drop of blood, and in fairness to her and her nephew, I should point out that Thutmose III did not try to eradicate her memory entirely, but only conceal the fact that she rules not merely as regent during his toddlerhood but as full pharaoh for her entire lifetime, once she took the throne. This was not so much to destroy her legacy as to reaffirm his own legitimacy, and took place many years after her death, which Cooney interprets, quite plausibly, to mean that Hatshepsut's rule was popular.
================
I usually append some thoughts about how one might find some grist for D&D in my book reviews, but I did not find myself taking any notes while reading this book.  I would absolutely recommend this book if you intend to run a game set in a Egyptian style ancient kingdom, or if you were going to run the "Valley of the Pharaohs" game. It might also be source of ideas for a campaign involving courtly intrigue, and the intersection of religious and political power, since Hatshepsut had to work so hard to hold together her unique and unprecedented place.