As I often mention here, my day job is as a librarian, and I get to see a fair amount of interesting stuff because my library is a large public research library (i.e. we get specialist academic stuff and popular stuff).  So recently The world's best loved art treasures  (ISBN 9780867198089, have your friendly local book store order it for you) crossed my desk and let me say it is a hoot. The artist (Click Mort, link goes to his web site) basically does what modeling & miniatures enthusiasts would call "conversions," but instead of working with scale models, he "recapitates" ceramic figurines.  These examples probably explain what is going better than I can.
***Update. Sadly, I just learned that Click passed away in 2017. Appreciation here His web site seems to have been pulled, and the images I had embedded from there, with his permission, were showing here as something else entirely. I've found a few pictures to share here.***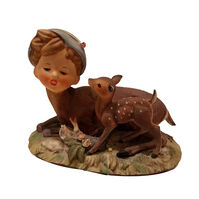 There are more at his site, and the book has even more. It kind of makes me want to stop in more junk stores hunting for cheap ceramic figurines to create my own chimeras.
Anyway you'll obviously need to use these in your next D&D game.
Elephant Harpy
HD 5 ; AC as Mail ; Mv. walk 12″/fly 24″ ; Attacks: 3 or 1 ; Dmg. d4/d4/d6 + special or d12
The elephant harpy is every bit as filthy and harridine* as a regular harpy, but with their vast shared memories they also hold eternal grudges. In fact, anyone who harms an elephant harpy will henceforth be the target of vengeance from all other elephant harpies. They attack by dropping objects on their victims for d12 damage (rocks if you're lucky) or in close combat will rake with their two claws and grapple with the trunk. Anyone grappled will be carried aloft and dropped from some height. Elephant harpies will not go near rodents, for fear that rodents will climb into their trunks.
Rankin-Bass Centaurs
HD 2 ; AC as leather ; Mv. 18″ ; Attacks 1 ; dmg. d6
Said to be the result of the unnatural coupling of deer and hill giants, Rankin-Bass centaurs are the size of deer, but have humanoid heads that would better fit on a giant's shoulders. Despite their apparent awkwardness, they are quite fleet and agile, and can leap great distances like an ordinary deer as well as move with stealth similar to a deer (surprise on a 1-4). They avoid combat when possible but can kick for d6. They can speak the local human languages as well as several woodland tongues (centaur, brownie, and dryad). They naturally attract normal deer and often herd with them. Rankin-Bass centaurs crave nothing so much as acceptance from humans and humanoids, but their disturbing visages, and horrid stench, make most civilized folk shun them. Some Rankin-Bass centaurs are accomplished druids and can cast with 7th level proficiency; these can be distinguished by their caps. A Rankin-Bass centaur may offer to accompany a party of adventurers in woodland adventures, but usually wear out their welcome by making annoying efforts to solicit compliments and praise. A scorned Rankin-Bass centaur may follow and harass adventurers with their spells (if a druid) or by simply alerting other woodland creatures and monsters to the party's presence.
*********
*Bonus neologism: harridine = being harridan-like.